An Exclusive Birthday Gift Guide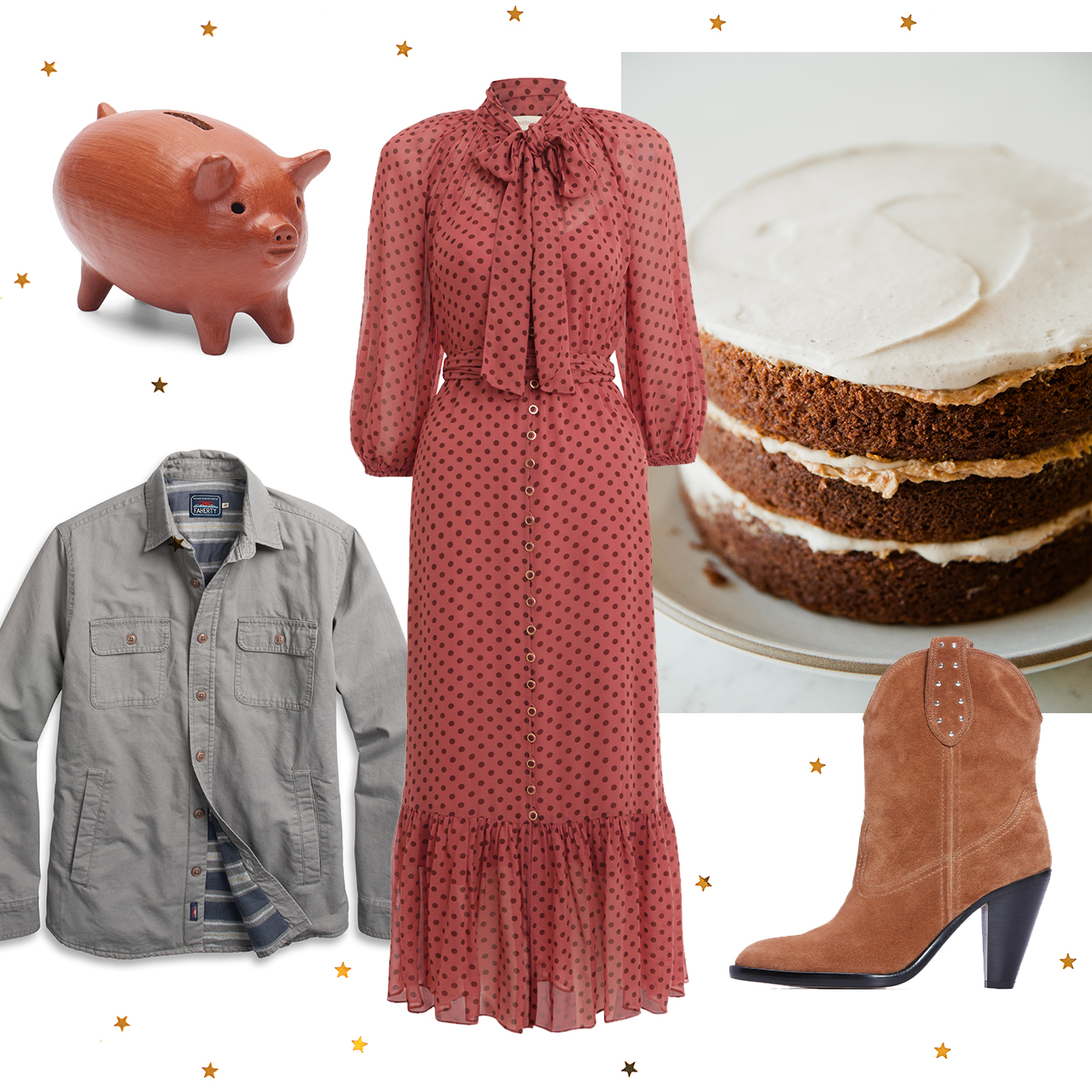 To celebrate one year of Palisades Village, we've partnered with a few of our favorite boutiques and eateries that highlight what we're all about. From understated glam to leisure-meets-luxe (and everything in between), explore our curated collection designed to elevate your wardrobe and satisfy your cravings.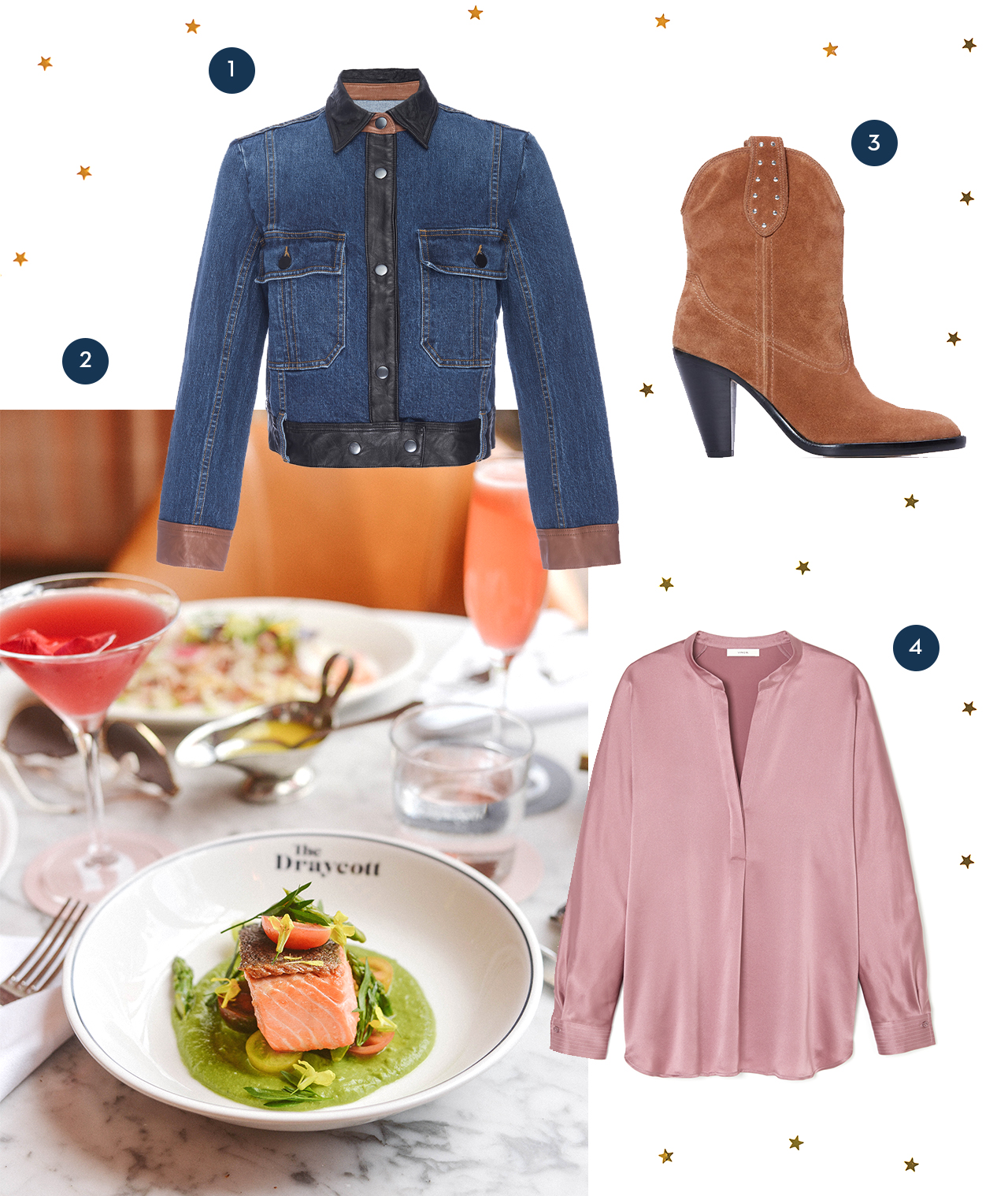 Take a stroll down The Promenade to enjoy an afternoon bite on The Draycott's parkside terrace. Casual-chic pieces are the perfect match for a midday jaunt around town.
1. FRAME, Denim Leather Block Jacket, $525
2. The Draycott, Call for Reservations, 310.573.8938
3. PAIGE, Wendy Boot in Cognac Suede, $395
4. Vince, Satin Band-Collar Blouse, $320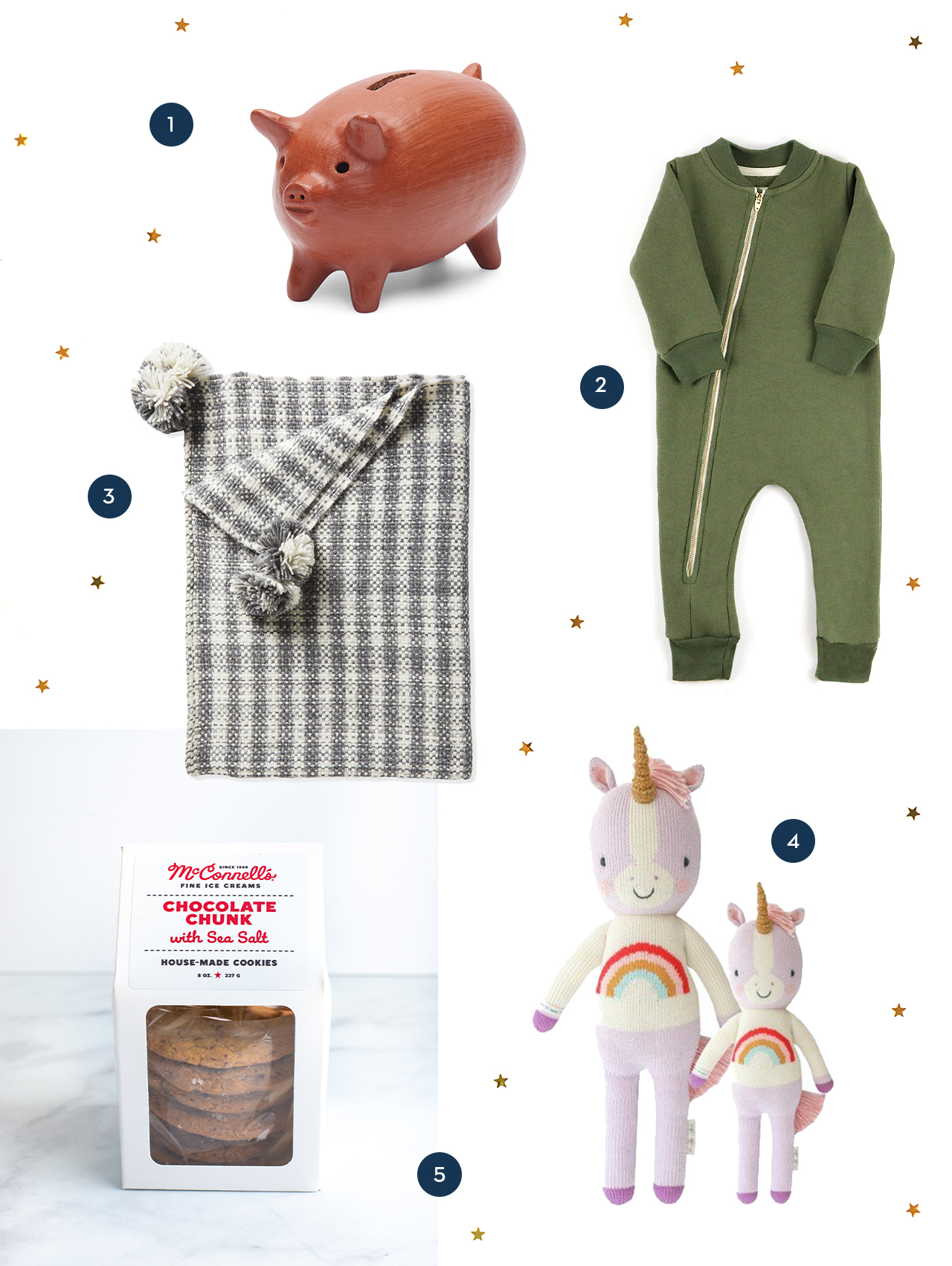 Cozy and cuddly are two of our favorite words. Wrap your little ones in love with oh-so-adorable pieces, then be sure to share something sweet!
1. St. Frank, Red Clay Piggy Bank, $65 – $85
2. mini mioche, The Varsity Romper, From $56
3. Serena & Lily, West Shore Alpaca Throw, $348
4. Bonjour Fête, Zoe the Unicorn by Cuddle and Kind, From $60
5. McConnell's Fine Ice Creams, House-Baked Chocolate Chunk Cookies (6), $10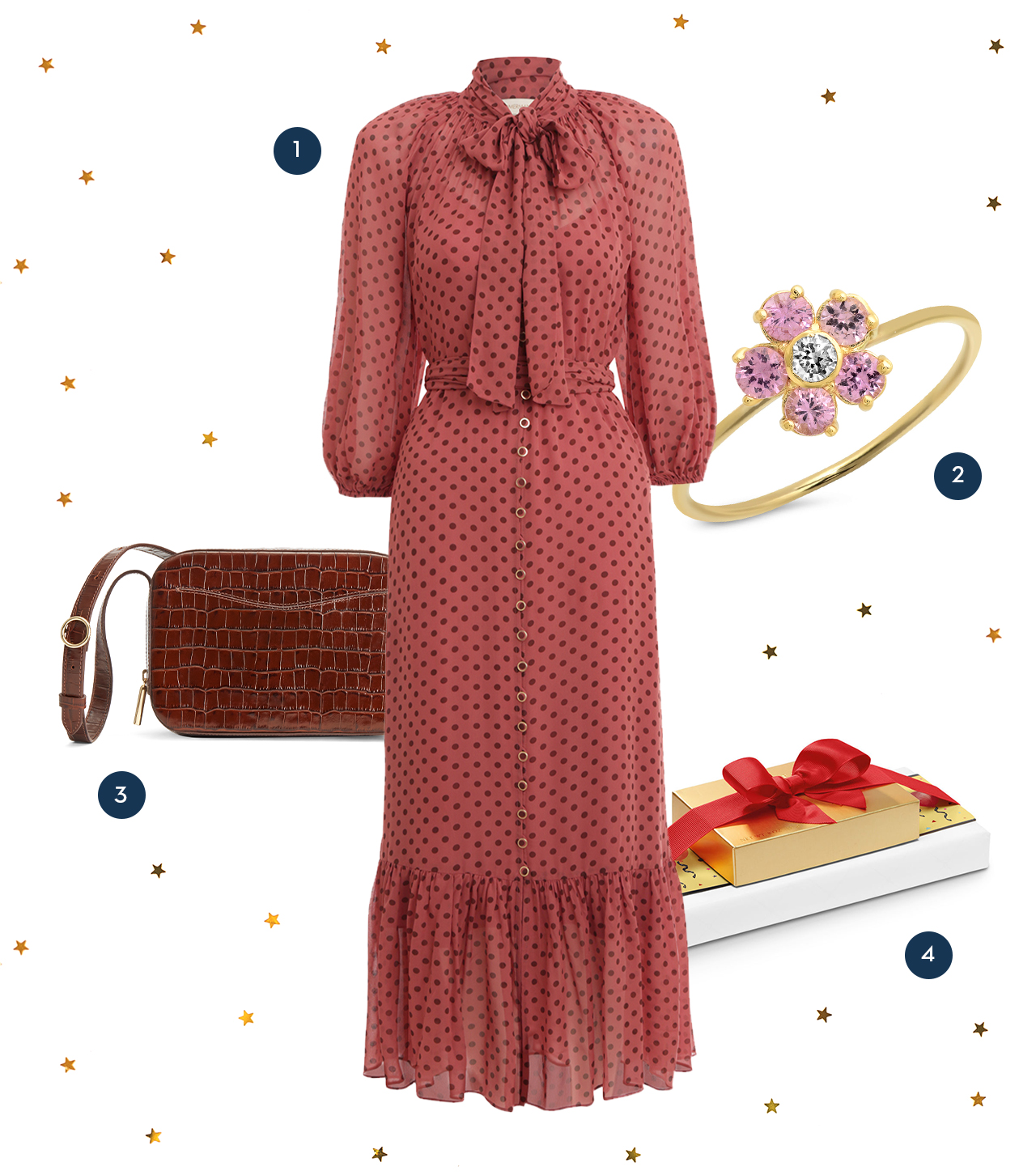 An easy, breezy date-night look starts with the perfect dress from Zimmermann. Make a statement with delicate-meets-stunning jewelry and a goes-everywhere handbag. Add a delectable touch with a dessert favorite.
1. Zimmermann, Espionage Neck-Tie Dress, $750
2. Jennifer Meyer, Pink Sapphire & Diamond Flower Ring, $1,500
3. Cuyana, Camera Bag, $240
4. See's Candies, Birthday Celebration Bundle, $35.70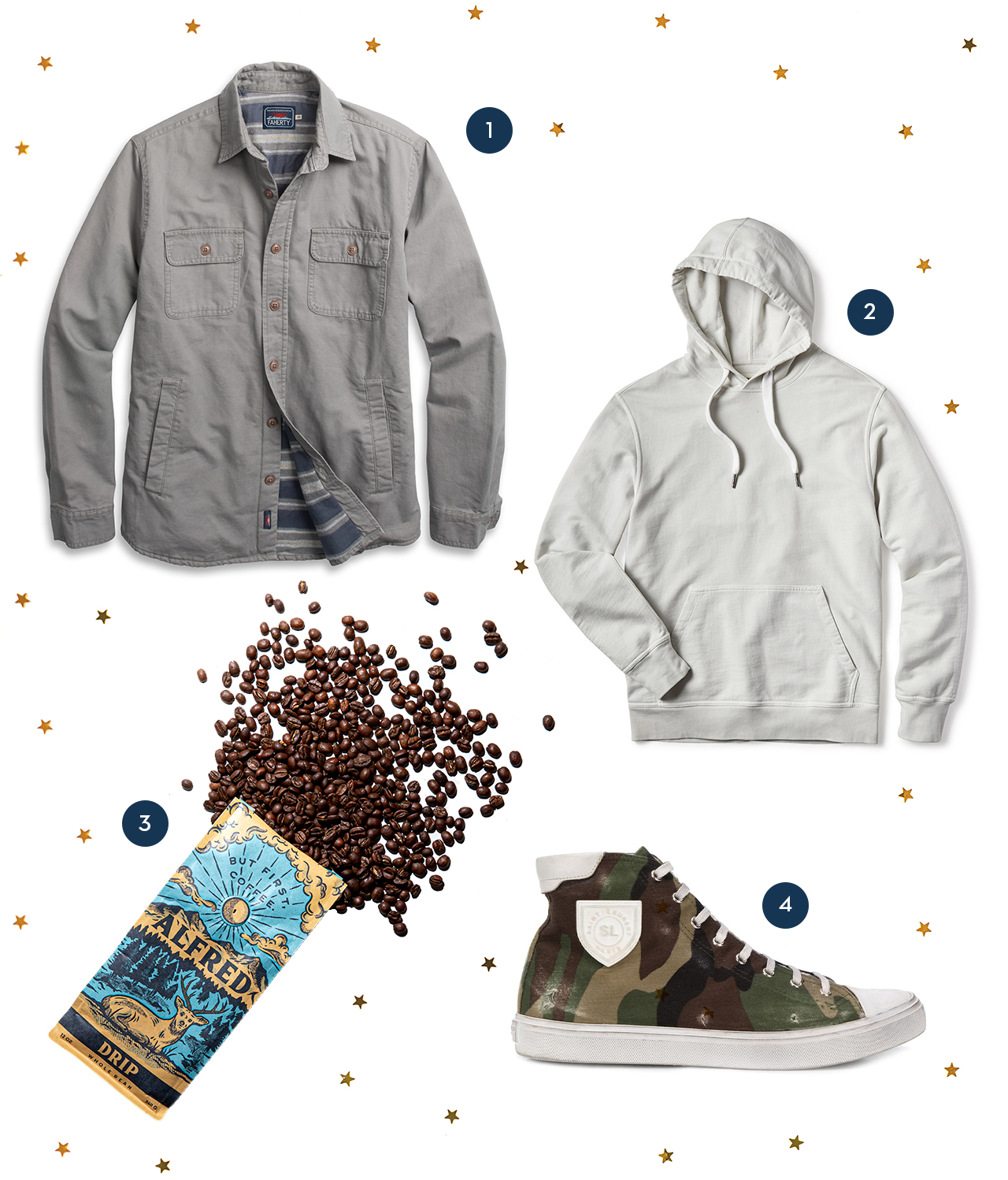 Make laid-back look cool with finely crafted staples for everyday and leisurely excursions. Grab the perfect pick-me-up with Alfred's roasted blends to brew a steaming cup, or pour it over ice with a dash of crème.
1. Faherty, Blanket Lined CPO Jacket, $198
2. Buck Mason, Natural Brushed Loopback Hooded Sweatshirt, $85
3. Alfred, Whole Bean Coffee, Drip & Espresso Blends, $19 each
4. towne by elysewalker, Saint Laurent Bedford High-Top Sneaker in Camouflage Canvas, $695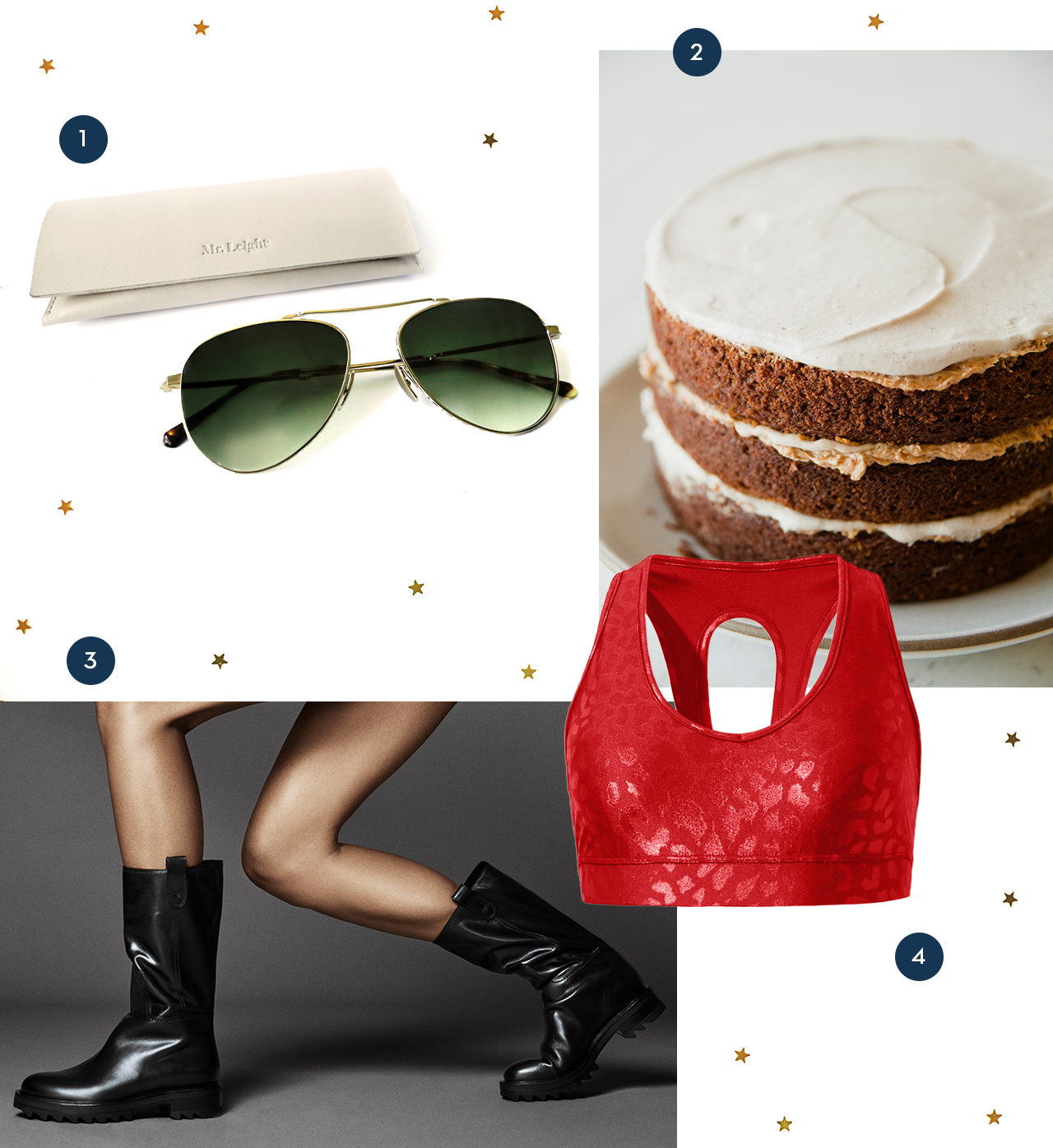 With essential sunnies and a bold pair of boots, your closet just got even cooler. Satisfy your sweet tooth with guilt-free treats from Sweet Laurel, offering baked favorites with zero grain, dairy or refined sugars.
1. Village Optic, Mr. Leight Aviators, $795
2. Sweet Laurel, Pumpkin Spice Caramel Cake, $76
3. Tamara Mellon, Easy Rider Boots, $895
4. Carbon38, Action Leopard Bra, $85